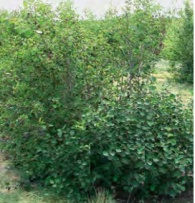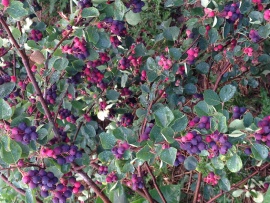 Saskatoon Berry
Saskatoon berry, Amelanchier alnifolia, is a fruit tree native to the prairies. The fruit looks like the blueberry but is more closely related to the apple family. Like apples, the fruit is sweet right from the tree but continues to ripen after picking, becoming sweeter with a fruitier flavour. Saskatoons are self- pollinizing and ripen late June to early July. They grow in a variety of soils and conditions to about 4m (14 feet) tall and 2m (7 feet) wide.
Saskatoon berries are rich in minerals, vitamins and antioxidants that assist in preventing chronic health problems.
They are hardy from zone 2-7.
July 2022 -Cultivar selections to be updated soon!!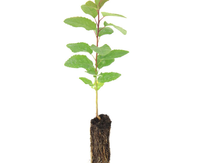 Saskatoon Seedling
Our Saskatoon seedlings are grown from the seed of 'Northline' Saskatoon. Seedlings are variable but we chose this seed selection because the parent seldom gets over 8 feet in height, which makes it ideal for U-Pick orchards and over-row harvester equipment. The uniform ripening of the berries in full clusters and the desirable sweet taste also make this variety a favorite. Saskatoons are hardy from zone 2b-7.
'Martin' Saskatoon Layer
'Martin' Saskatoon is a descendant of the Thiessen cultivar and was selected by Dieter Martin in Saskatchewan. This selection produces large fruits with an improved uniform ripening habit. In addition of producing a consistent yield, its berries are delicious. Many describe the taste of Saskatoon berries as having a sweet, nutty almond flavour. Saskatoon Berries are usually harvested in July. Amelanchier alnifolia 'Martin' is a vigorous shrub with an upright habit, growing up to 5 m (16 ft). Hardy for zones 2b-7.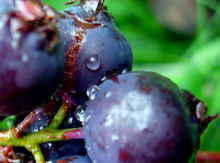 'Northline' Saskatoon Berry Layer
'Northline' Saskatoon (Amelanchier alnifolia) is very productive with large purple fruit of outstanding flavor. It is a dense, bushy shrub to about 2 m (6 ft). Northline Serviceberry is a selection is from Alberta, Canada and is incredibly hardy to -45°C (-50°F) when fully dormant. Zone 2-8.