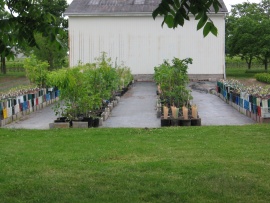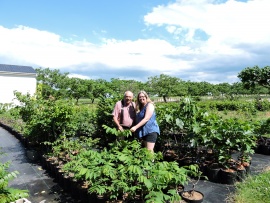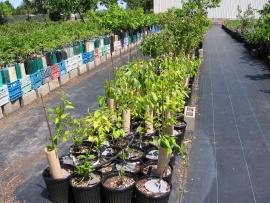 Potted Trees
A selection of potted trees are available during the late spring to fall season. Potted Trees are not available to buy from the website, but must be bought on-site at the nursery. We do not carry everything on our website, but a good selection of mainly grafted trees and trees that are only maintained in pots. Prices are somewhat higher to cover the added cost of potting, special care, and maintaining the trees by watering, fertilizing, weeding, etc.
The following potted trees are available for pickup at the nursery. Email or call ahead for pricing and availability.
Grafted & clonal trees- Shagbark and shellbark hickory, Ultra Northern Pecan, Heartnut, Black walnut, Persian walnut, Butternut, Mitchell heartnut x butternut, Ginkgo, Skinner bur oak, Hazelnut, Mulberry, Fig, Persimmon, Quince.
Seedling trees (grown from seed)- Sweet Chestnut, American beech, Korean pine.
We are usually open daily from 10-5, and noon to 5 on Sundays, but our hours are not always consistent so please call or email us to be sure.
The trees listed are only to give you a general idea of what may be available, but our online inventory for potted trees is not updated regularly, so please call ahead if you are looking for something specific. Potted spring sales begin after our bare root season is over. Mid-June would be the earliest we would have potted trees available.
Be sure to water the trees regularly, about 2 times a week or more during hot dry spells until September. It is also important to keep grass and weeds well away from the root zone for the first 2 growing seasons.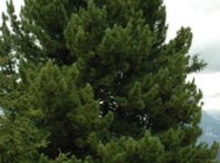 Nut Pine Seedling
All of our pines are maintained in pots for best transplant success. Since they are small, we also can ship them all season long. The pines we have this year are Korean pines. They produce a nut that is the size of a medium size pistaschio nut. They have a fine pine flavour. The trees are slow growing for several years. Mulch them well with pine needle duff from under an old pine tree. This will help to keep weeds away and it provides them with the root fungal associates that they need. Water often during summer dry spells.