Plant Care and Supplies
We aim to provide our customers with materials and supplies that are proven to be effective at helping to bring success to your trees and orchards. Please also see the Plantra tree shelter page for additional grower supplies.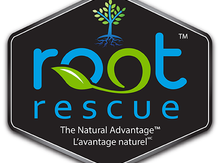 Root Rescue
Root Rescue contains 18 different species of mycorrhiza to help your plants establish strong root systems. University of Guelph tested the product for 4 years. Root Rescue can permanently improve nutrient and water uptake while also reducing transplant shock. This will help to improve the soil biology to create a healthy soil to nurture your trees. This is a wettable powder that mixes easily with water. To learn more about the science behind mycorrhiza click here.
The 22.5 gram pack will provide for 5-7 trees.
The 45 gram pack will provide for 10-15 trees.
The 450 gram pack will provide for 100-150 trees.
The 900 gram pack will provide for 200-400 orchard trees.
Root Rescue will be shipped beginning in April. If you require it sooner please let us know.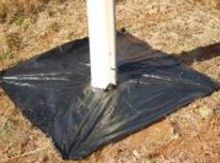 Weed Pro Weed Mats
A newly planted tree needs to be protected from moisture and nutrient robbing grasses and weeds. Our weed mats are a black plastic mulch that fits snugly around the tree. It stays in place for several years, held firmly in place with the 4 sod staples that are included. The mats prevent grass and weeds from growing in a 2 foot (60 cm) square. This is an alternative for labor intensive hoeing, cultivating or using mulches to keep weeds away. With a Plantra tree shelter in place, weed spraying tree rows can be done in confidence knowing that the trees are protected.
Grower Ensemble for Best Care - PICK UP ONLY
The grower kit is designed for a commercial orchard, but is well suited to residential plantings too.
The grower ensemble kit includes a 2 ft "C" style Plantra tree shelter, a bamboo stake, and a 7" fibre weed mat. The weed mat ensures water, air and nutrients can pass through while suppressing weeds. The Plantra shelter protects young trees from mice, voles and rabbits, but is essential for protection against spray drift. (We can substitute a Weed Pro Mat with 4 sod staples shown below for the 7" fibre mat at $1.35 more per unit). Mention the desire for the substitution in the comment section of the order form.
Add Root Rescue and your planting is off to a great start.