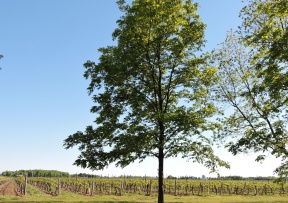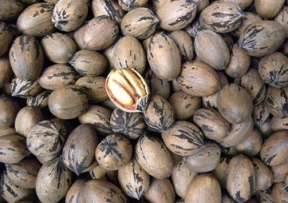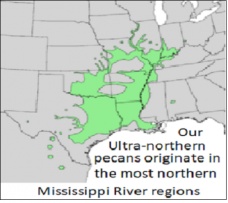 Pecan, Ultra Northern
John Gordon and Gary Fernald, two pecan enthusiasts, searched for the earliest ripening pecans at the northern end of the wild pecan range near the Mississippi River in Iowa and Missouri. Gordon brought back nuts and grafting wood for testing. The best of these were established in Ontario at our nursery test orchard and are available as seedling and grafted trees. And so, the Ultra-northern pecans became established as a distinct strain of pecan. The best ulta-northern pecans produce nuts the size of typical wild trees further south.
Our grafted trees are grown on 3 year old rootstocks in containers for two more years to encourage fibrous rooting for best transplant success and growth. In zone 5 and 6a, grafts need to be hilled up above the graft for the winter with garden soil like roses would need, to protect the cold-tender graft area. They do best with long hot summer conditions to fully fill the nutmeat, Tree size ranges from 20-22 m in height and 15 m wide (70 x 45 ft) at maturity.
Leafhoppers are a problem in the first 2 years with pecan trees. These sucking insects can cause the leaves to wrinkle and turn black on the edges. Spray with a fruit tree insecticide in late June and again in July for best results.