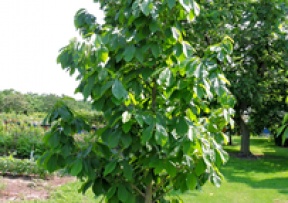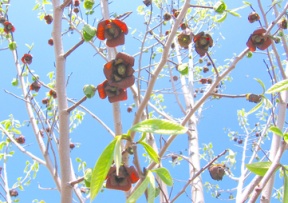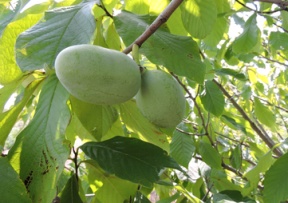 Pawpaw Trees
This unusual small native pawpaw tree is not only strikingly ornamental with its delicate purple blooms in the spring and its long drooping leaves, but it produces clusters of custard-like oval fruits that ripen in the fall. The trees are insect and disease resistant. The leaves and twigs have anti-oxidant properties as well as insecticidal uses. Suited for zones 5 to 9 in well-drained soil. Protect from grass competition and strong winds in the first 2 years. Smaller trees (1-3 foot) will benefit from the use of a tree shelter. They are a small tree that grows to about 8 m tall and 3-4 m wide.
2 seedling trees are required for cross pollination.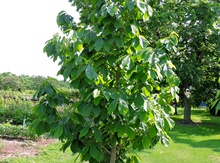 Pawpaw seedling
Our seedlings are grown from seed of selected cultivars that perform well in Niagara. Two or more trees are needed for cross pollinization. Though some pawpaw trees are suggested to be hardy for climate zone 4, we do not recommend ours for that zone. They are suited for climate zones 5b-8.