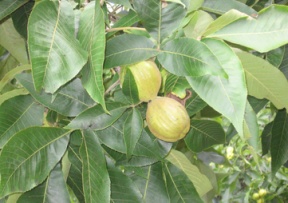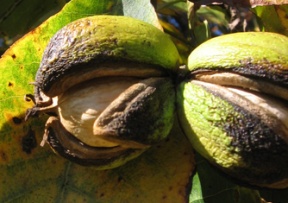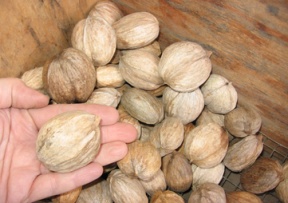 Hickory & Hican
Hickories have a slow beginning, producing a long tap root first. After it is established, it grows more quickly. It is selected for ease of cracking to remove large kernel pieces. Its buttery flavor is king. Hickories are among the slowest nut trees to begin to bear at from 8-10 years but the wait is worth it. Of the hicans, 'Burton' is the best we have tried in Niagara.
Trees weakened by transplanting are often attacked by pests. Leafhoppers and aphids are a problem in the first 2 years for both hickory and hican. Spray the trees and surrounding area several times with an insecticide in June when the leafhoppers are present and again in July for best survival.
For grafted trees, winter protect the graft area with a mound of soil around the tree above the graft for the first 2 years. All rootstocks for hickory, hican and pecan are ultra-northern pecan seedlings for best performance. Seedlings are suited for zones 5-8, grafts in zones 5b-8. Tree size ranges from 20-22 m in height and 15 m wide (70 x 45 ft) at maturity.