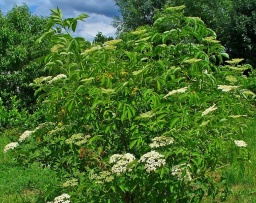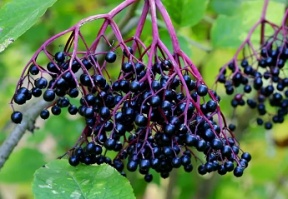 Elderberry
Elderberry, Sambucus canadensis, is a native thicket-forming shrub or small tree that can be found along streams, marshes, and moist forests. It may grow 2-3 m tall (9 to 12 feet), is somewhat woody and has an arching spreading form. Small white flowers are borne in dense clusters. Flowers are followed by drooping clusters of black fruit in late summer to fall.
The elderberry tolerates a wide variety of wet to somewhat dry soils but prefers rich, moist, slightly acid soil in sun to partial shade. Under cultivation, it is tolerant to a wide range of soil conditions but grows best on well-drained loam soils. It is hardy from zone 3-8.
Elderberry is famous as a medicinal berry high in vitamin C, fiber and very high in antioxidants. Elderberries are best cooked into desserts, pies, and jams. It must be cooked to be edible. Eaten raw, berries can cause intestinal discomfort.