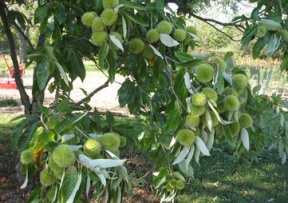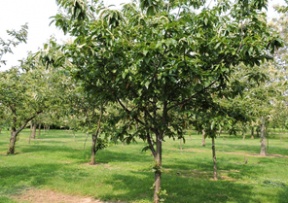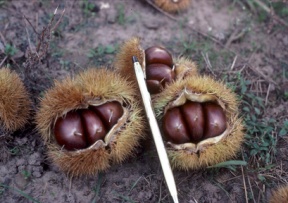 Chestnut
Sorry, no chestnut trees can be shipped to the United States or British Columbia due to restrictions by Agriculture Canada and USDA.
The American chestnut was native over much of the Southern Ontario sand belt areas in Canada. This magnificent species considered the sequoia of the east towered over the forest at 30 m (100 ft) or more. It was largely wiped out by chestnut blight, a disease introduced from the Orient in the late 1800's that destroyed all of the trees in the native range from Southern Ontario southward to Georgia. It was a devastation of enormous proportions.
The Chinese chestnut and its hybrids are largely resistant to this disease and have been used to replace it, not as a forest tree but as an orchard and yard tree. The Chinese/American hybrids are more cold hardy but less resistant to blight. In Europe, when the European chestnut was threatened by blight, crosses were made with Japanese chestnut to produce resistant hybrids. Tree size ranges from 12-18 m in height and 15 m wide (60 x 45 ft) at maturity.
Chestnut gall wasp, another imported pest from the Orient brought in on grafting wood in Georgia has spread over Southern Ontario recently. To avoid spreading this pest further, we are asking customers to monitor the trees they purchase for the galls which appear in late May. If found, the galls should be removed and burned. This will eradicate the pest before it emerges to lay its eggs.