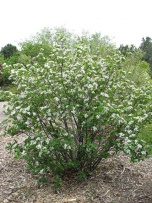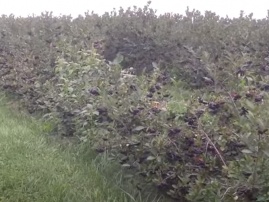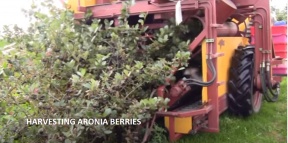 Aronia Berry
The aronia, Aronia melanocarpa, is native to Eastern North America. The fruit, leaves and twigs were used by the indigenous people for medicinal purposes. Also known as chokeberries, the fruit never became popular with settlers in North America. It was introduced to Europe in the 1900's and the dried fruit and juice became an export market for Poland, and ironically back to North America. The aronia fruit is well known as a superfood since it is high in vitamin C and very high in antioxidants. Agricultural scientists in Finland discovered that making jam from the berries was the best way to retain antioxidants compared to drying the fruit or juicing it.
The fruit is astringent (mouth-puckering), so most people do not enjoy eating it fresh. However, if you mix aronia berries 1:1 with a sweeter fruit (Blueberry? Raspberry? Apple?), you'll enjoy them very much in juice, wine, baking, jams and jellies, or in fruit smoothies.
Aronia is a self-fertile plant and bears from the 2nd year of growth. The ripe Aronia berries can be harvested from the end of August/beginning of September, when the berries are black-red on the inside. The plant grows to about 1.5 m (5ft). It is hardy to zone 3.