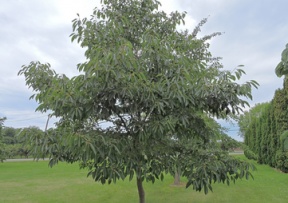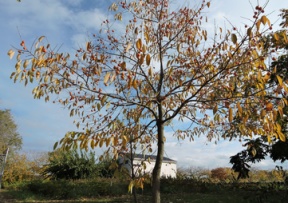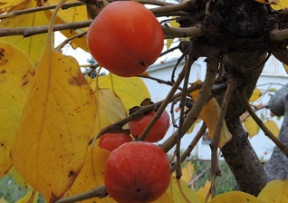 American Persimmon
The American persimmon is native from Southern New England across to Kansas and southward to Texas. The trees are dioecious, that is persimmons can be male or female. Most cultivars will produce fruit without a male. The persimmon produces a very sweet delicious fruit that is astringent until soft. Fruit can stand freezing temperatures and still be edible even into December. As soon as the fruits turn orange, they can be picked and stored in a plastic bag with apples to ripen completely. Alternatively, they can be placed in the freezer overnight and eaten the next day.
The trees do best in a warm climate. Winter protect grafts in zone 6 by hilling them up with soil above the graft for the first 2-3 years. Prune them like other fruit trees to keep them down in size for ease of picking. No spraying is required.
As of spring 2022, the USDA no longer permits persimmon to be shipped into the United States.