Nut Crackers
Entrepreneurs have invented useful tools for cracking nuts. We offer these exceptional inventions here.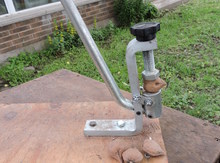 Kenkel Cracker
The Kenkel is capable of cracking black walnuts but it needs to be well anchored to a wall stud or table top for instance to get the support needed. It is our favorite for cracking the medium hard nuts like heartnut and shagbark hickory. Of course it works well on the thin shelled nuts too. Simple in design, this nutcracker adjusts for all nut sizes with a simple top screw. It works on lever action with a 21 inch handle. Base is not provided.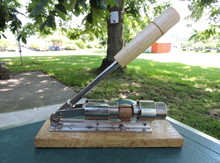 Duke Pecan Nut Cracker
The Duke pecan cracker is designed for smaller nuts like pecans and hazelnuts. It can also be used to crack heartnuts. It is a handy inexpensive tool. It cannot crack black walnuts or hickory nuts.
Patriot 600
The 'Patriot 600' is the best cracking machine we have ever seen, well suited for commercial and semi commercial production. It is suitable for cracking any hard shelled nut including black walnuts, hickory nuts, and butternuts. No need to size the nuts before cracking. As the nuts drop in the narrowing steel hard faced cone shaped chamber, the inner rotating cone spins the nut and shatters it, releasing large meat pieces. This heavily built 353 pound (163 Kg) machine can crack 600 pounds of black walnuts per hour. The steel surfaces are coated with a baked on food grade finish. The sealed 1 hp gear reduction motor operates on regular 110 power supply. Mounted on 4 heavy duty casters, it can be easily moved. Other than 3 bearings that require occasional greasing, the machine is maintenance free for long term use.
Canadian customers: $6,195 USD + GST/HST & shipping. Inquire about pricing in Canadian funds.
American customers: $6,195 USD + shipping. Inquire.
Inquire about the 'Locomotive 1000', a larger 442 pound (200 Kg) cone cracker version where higher outputs are needed.